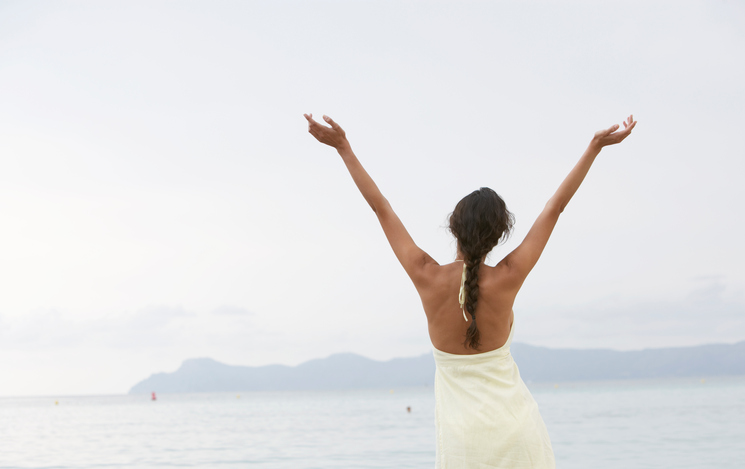 In the spirit of Thanksgiving, I would like to share with you three tips that get me back to peace through life's tests and enrich my life with gratitude.
It is easy to be grateful when our life is enriched with positive events but harder to do when we are going through tough circumstances. Being grateful in spite of these testing times is certainly more difficult.
Trying circumstances in our life may affect us in the most negative ways. We can become overwhelmed, angry, depressed or pessimistic. We start reacting rather than responding. We can make wrong decisions or become self-centered. We think that our experience is unique and, at times, we feel victimized by circumstances beyond our control.
Our ability to cultivate gratitude during these grim situations may ease up the way we live through our tribulations and accelerate our healing process. Apply these tips to a situation you are living right now that you find hard to be grateful for, which can be abridged by the acronym A.C.T:
1.  Accept the Situation you are In
You only have two choices: either you deny your present situation, are miserable and angry about it or you accept it. The benefits of accepting it outweigh resisting it by far. Accepting it would help you endure the suffering from it. It will restore the flow of healing into your life. You will start attracting the possibilities that can shed light on your circumstances. Accepting your situation will also support you with your grief and prop you to move forward. Remember that what you resist persists!
I know it is a lot easier said than done, but what are your choices? Either you live in the old rut, victimized by people and circumstances, or you decide to have the upper hand and master the situation you are in.
Accepting does not mean being complacent about your condition. It simply means to stop the interior war within, which will lead you to nowhere and replace it with awareness to guide you towards the lesson you will gain from your experience.
So, which one would you choose?
2.  Count the Blessings in your Life
Remember the old adage your grandmother used to tell you: "count your blessings"? Close your eyes and ask yourself: what is really working well for me and in my life? Connect to this one thing that you love and for which you are grateful. Breathe into it and thank the universe for it. Every morning when you wake up and every night before you go to bed, try to repeat this step.
Connecting to what is positive and working in your life will make you focus on it and equip you with the same vibration to be able to create more of it. This will affect the negative situation you are in and make you see more clearly the solutions at hand so that you can act with wisdom.
3.  Trust that the Gold Will Appear Soon
The condition you are in will unravel some gold that is hidden from your view right now. Your new task is to find it and not fight it. This gold may be a teaching you a lesson you need. It may be creating a clearing of space for something good to appear in your life. It may also be hiding a benefit that you will uncover.
Believe in yourself and in the universe that you will attract and manifest your deepest intentions. Have faith without any attachment to a positive outcome that will appear soon. It may surprise you with a different outcome that will only make sense in the future. Every time you have doubts, go back to your breath and trust.
Whenever you feel defeated by the circumstances, remember the acronym ACT: Accept, Count your blessings, and Trust. This acronym will propel you to act wisely instead of reacting from a negative place. Being grateful to a lesson that will show up at some point is the ultimate faith in life.
I hope these tips will help you move forwards towards gratitude and peace. The power of gratitude can enrich your life, lift up your moods and make you appreciate and enjoy life even in the darkest moments or most challenging experiences.
I am grateful to you, allowing me to share these tips and keep cultivating gratitude in my life!